November 2017
John-Morgan Manos is distinguished with two of the most prestigious awards for Undergraduate students. 
Already a glacier-rock-star, John-Morgan was awarded in early October with the Garry McKenzie & Henry Brecher Undergraduate Scholarship Fund for his project "Annual Surface Elevation of the Lehman Rock Glacier in Great Basin National Park", and was recently also recognized with the 2017-2018 Taaffe award, the Department of Geography's highest honor for undergraduate students for his outstanding performance.
John-Morgan (second left) is a major in Geography and an active member of the Glacier Environmental Group. Congratulations to him for these great achievements.
May 2017
Capacity Building Workshop in Ngaoundere, Cameroon
Bryan Mark, together with former BPCRC postdoctoral researcher Alfonso Fernandez, and colleagues from the Moritz Lab and from the University of Maroua, Cameroon, held a workshop in Ngaoundere, as part of the Capacity Building of stakeholders, students and researchers, as part of the MORSL project (Modeling Regime Shifts in the Logone floodplain). This project is funded by the NSF (Dynamics of Coupled Natural and Human Systems (CNH) program) and has the objective to explore the impact of human activities and climate change over the social, ecological, and hydrological systems, in the Northeastern floodplains of the African country.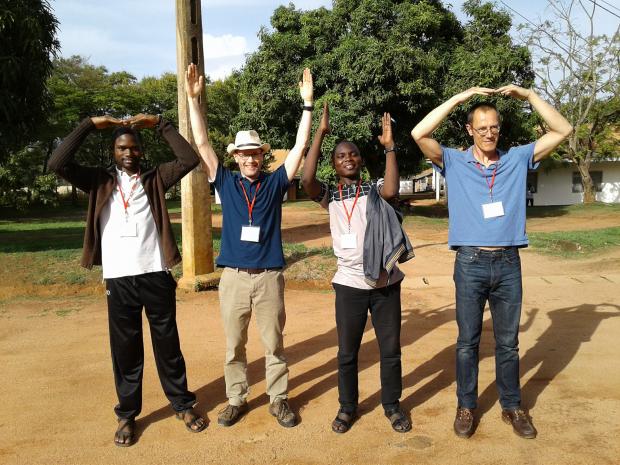 January – March 2012
| | |
| --- | --- |
| | On  February 15, 2012, the Byrd Polar Research Center presented a series of talks for updating about the ongoing situation of Peruvian Glaciers. The event was catered with Peruvian food and featured  Lonnie Thompson, Bryan Mark and Nathan Stansell.  The three scientists from the Byrd Polar Research Center described glacier changes they've observed in Peru and the implications of changes in the water supply to the people who live downslope. |
Glacier environmental change group impacts the world
Video 1

To capture a picture of how the earth's climate has changed over time, researchers from Ohio State's Byrd Polar Research Center travel alpine and polar regions to collect, measure and archive ice cores collected from around the world.

The Big Ten network featured our group to show how Ohio State impacts the world.

Video 2
December 2011

Alex Eddy selected for the National Geographic Society Internship program
We are proud to announce Alex as one of the few selected students for the National Geographic Society Internship program. According to National Geographic website "Our geography internship program, directed by Robert E. Dulli, Deputy to the Chairman, is designed for geography and cartography majors at U.S. colleges and universities who are currently in their junior or senior year of academic work, as well as master's degree students. The purpose of the program is to furnish students a professional learning experience through participation in various projects aimed at the diffusion of geographic knowledge".
Congratulations Alex!!!
_
_
Global Change in Mountains Environments
_
Time: M,W 9:30-11:18 am
Location: The Learning Center, Byrd Polar Research Center,
136 Scott Hall
Instructors: Drs.
Bryan G. Mark
, Geography, and
William B.
Lyons
, Earth SciencesMountain environments comprise a nexus for interdisciplinary
research because their verticality transects all climatic zones, from
glacierized summits to diverse lowland biomes. As such, they form headwaters of
vital surface water resources, and are hotspots of biodiversity. Furthermore, mountain
environments are most "sensitive" to natural or human-induced
environmental change, a characteristic that calls for the attention of uniquely
trained scientists in identifying linkages between earth systems and social
science.This interdisciplinary graduate student seminar will explore
processes of climate and environmental change in mountainous regions. Our
approach will be grounded in physical biogeochemical processes, but to foster
transdisciplinary literacy we will incorporate both physical and human
perspectives. We will survey current research from different mountain regions,
including Eurasia, Africa, North and South America. Particular attention will
be paid to dynamics of changing environmental conditions over time, and impacts
to physical (e.g. climatic, hydrologic, ecologic) and human (e.g. social,
cultural, economic) systems. Specific content will be directed by students,
whose interests will be developed in individual case studies.
News archives
October and November 2011
_
_
Scott Reinemann and Nathan Patrick are lead authors in a new Park Science article that describes our project in Great Basin National Park
_
Climate change in Great Basin National Park: Lake sediment and sensor-based studies By
Scott A. Reinemann
,
Nathan A. Patrick
, Gretchen M. Baker, David F. Porinchu,
Bryan G. Mark
, and Jason E. BoxAlpine
and subalpine aquatic ecosystems are highly susceptible to direct and
indirect effects of climate change, making them ideal study sites. We
recovered a sediment core spanning the last 7,000 years from Stella
Lake and a core of the last 100 years from Baker Lake in Great Basin
National Park, Nevada, in 2005 and 2007. We examined the cores for
subfossil chironomid (Insecta: Diptera: Chironomidae; i.e., midge)
remains. The midge communities in the lakes underwent little
compositional change through much of the 20th century; however, after
1980 a rapid lake-specific faunal turnover was observed. Because of
limited dispersal ability and restricted habitats, some lake species
will be extirpated by climate change. Fortunately, lake cores show that
even during the most arid periods the lakes did not completely
desiccate, but continued to support lake biological communities. To
complement the limnological work, an air temperature and humidity
micrologger network was deployed in 2005 and expanded in subsequent
years, now numbering 36 instruments. The sensor network that spans the
full park elevation range (1,639–3,892 m/5,377–13,063 ft) indicates
coherent seasonal and elevational variations, which help to interpret
the paleolimnology data. Climate models indicate increasing temperatures
and uncertain change in precipitation for the Great Basin region.
Although we may not be able to protect all ecosystems faced with climate
change, our collaborative educational research project exemplifies how
the National Park Service is equipped to document and interpret
climate change.
NASA project in the Bolivian Andes
_

Oliver Wigmore

participated in the initial stages of a

NASA

project in

the Bolivian Andes. The project is investigating high alpine bofedales

(peatbogs). Bofedales are an important habitat for endemic and

endangered species, help to capture, store, regulate and filter water,

provide vital livestock forage, and sequester carbon. The project aims to:Characterize the variability of bofedales throughout the Andes

Provide satellite image analysis of area, distribution and condition

Examine linkages between peatlands and mountain hydrology

Assess the impacts of climate change and glacier recession on bofedalesThis is the first stage of a four year project that will incorporate study sites throughout Bolivia and Peru
_
Aftermath of the Imja Lake Expedition
Latest video of the

Imja Lake Expedition

. You can also read the Clip book below
_
Alex Eddy wins 3rd place in 2011 OIA INT'L photo contest! Check it out at the OSU Union!!
_ Photo Name: Lost City, Lonely Dog
Photo Location: Caral, Supe Valley, Barranca Province, Peru

In Alex Eddy's words: "What is the story of a place? This photo shows two pyramids in Caral, found in the Supe Valley of Peru. Caral is said to be the oldest city in the Americas, serving as the center of the Caral civilization more than four thousand years ago. I was here with a group of scientists, who debated over the unlikely location of this place – seemly too far from the coastal fisheries, too far from other resources farther inland. I wondered about the stories surrounding this place and the people who lived here or just passed by here. I wondered about its dynamic now, and even about the story of this dog, which despite being the same color as the sand, looks so out of place."
August and September 2011
_
The Imja Lake Expedition
Bryan Mark and Jeff La Freniere participating in the Imja Lake Expedition.

Bryan and Jeff were part of the "2011 Andean-Himalayan Glacial Lake Exchange and Collaboration Expedition".  It was a 18 day field expedition and survey of the potentially dangerous Imja glacial lake in Sagarmatha (Everest) National Park, Khumbu. Strategies for increasing exchange and collaboration opportunities for practitioners from their home mountain ranges—the Andes, Tien Shan, Pamirs, Karakoram, and Hindu Kush-Himalaya—will be developed. Expedition members spent three days camped below the Imja glacial lake to exchange experiences in glacial lake control, mitigation, and management.  The expedition had live-blog, Twitter and Facebook during the entire journey. The field expedition (5-23 September 2011) was followed by a four-day workshop "Promoting South-South Knowledge Exchange and Collaboration between Experts and Practitioners from the Hindu Kush-Himalaya, Andes, and Central Asian Mountains for Improved Adaptation and Resilient Livelihoods", held at the International Centre for Integrated Mountain Development (ICIMOD) (25-28 September 2011).
Karthaus Summer School
Photo credit: Alfonso Fernandez
Alfonso Fernandez
participated in the 2011 "Karthaus Summer School on Ice Sheets and Glaciers in the Climate System"
. 
The course provided a basic introduction to the dynamics of glaciers and ice sheets with a focus on ice-climate interactions. The
 course was held in Karthaus (northern Italy).
May 2011
Congratulations to Dr. Bryan Mark, who was awarded the Distinguished Undergraduate Research Mentor Award! Dr. Mark won this award for his work with the brilliant young Geographical minds that he has mentored through their research, which is why the award has the above title.
http://www.facebook.com/OSUGeography
Visit of Dr. Kurt M. Cuffey
Dr. Cuffey is Profesor at the Departments of Geography and Earth and Planetary Sciences, University of California, Berkeley. He visited The Ohio State University for the Edward J. Taaffe Physical Geography Colloquium. He spoke about the major glaciological factors contributing to the rise in global sea level. His topic raises the question of how environmental scientists should respond to requests for quantitative forecasts when quantitative precision is illusory.
More details here.
---
April 2011
Jeff La Frenierre has been awarded a 2011 NSF Doctoral Dissertation Research Improvement Grant for his research on glacier change and water resources at Volcán Chimborazo, Ecuador. He will be working in his research from October 2011 to July 2012 in that country.
---
March 2011
Shawn Stone
recently presented research results at the NE-NC GSA meeting in Pittsburgh, 20-21 March. Shawn was awarded travel funds for
the trip from GSA, and also used some of his award money from the (first) 2011 G. McKenzie Undergraduate Scholarship:
http://bprc.osu.edu/scholarships.php#mckenzie
.
Eric Haas
completed his B.A. in Geography during WI11 and graduated from OSU at the Winter 2011 Commencement. Congratulations, Eric!