Glacier Environmental Change
Our
research
addresses physical and human dimensions of environmental change in glacierized landscapes. We are interested in the nature, extent, and impact of changes over different scales of space and time. We incorporate different field and computer-based methods, including glacial geology and geomorphology, hydrology, meteorological monitoring, mapping with global positioning system (GPS), remote sensing, GIS, and modeling. While the predominant focus is on tropical glaciers and mountain environments, we also work in mid-latitude sites once occupied by glaciers, including Great Basin National Park and Central Ohio.
---
News
December 2017
Metal pollution and glacier melt in Peru (GlacierHub)
As glaciers continue to rapidly melt in the tropics, scientists and society face new challenges like the increase in trace metal concentration and pollution in the glacier watersheds. GlacierHub reports on our recently published article in Environmental Monitoring and Assessment that is based on trace metal measurements within the Rio Santa Watershed, Peru. The collaborative project has included Michel Baraër, Jeffrey McKenzie, Oliver Wigmore, Alfonso Fernandez and others from 10 institutions in four different countries, working together with Bryan G. Mark.
November 2017
One small leap for drones, one giant step for mountain glaciologists
The high altitude UAV built by  Oliver Wigmore was featured recently in a news feature and video by Science, remarking the work of him and Bryan Mark in the high Andes of Peru, during his PhD study at the Ohio State University. Oliver introduced the use of these exciting technologies, coupling remote sensing together with the desingn of special drones, in order to understand the spatiotemporal variability and changes in alpine ecohydrology and the mountain cryosphere. Congratulations to Oliver for this achievement. Stay tuned for ongoing innovations in this rapidly developing world of UAVs in glacier environmental research.
Showing its relevance for society, the NYT recently featured our research on glacier hydrology in Peru in a piece of the World Section. The article cited our paper from the Journal of Glaciology and quoted Jeff Bury, co-author and collaborator of the Glacier Environmental Group. The article focuses on the current use of melting water from the glaciers for the irrigation of thousands of hectares in the Peruvian desert.
John-Morgan Manos is distinguished with two of the most prestigious awards for Undergraduate students. 
Already a glacier-rock-star, John-Morgan was awarded in early October with the Garry McKenzie & Henry Brecher Undergraduate Scholarship Fund for his project "Annual Surface Elevation of the Lehman Rock Glacier in Great Basin National Park", and was recently also recognized with the 2017-2018 Taaffe award, the Department of Geography's highest honor for undergraduate students for his outstanding performance.
John-Morgan (second left) is a major in Geography and an active member of the Glacier Environmental Group. Congratulations to him for these great achievements.
May 2017
Capacity Building Workshop in Ngaoundere, Cameroon
Bryan Mark, together with former BPCRC postdoctoral researcher Alfonso Fernandez, and colleagues from the Moritz Lab and from the University of Maroua, Cameroon, held a workshop in Ngaoundere, as part of the Capacity Building of stakeholders, students and researchers, as part of the MORSL project (Modeling Regime Shifts in the Logone floodplain). This project is funded by the NSF (Dynamics of Coupled Natural and Human Systems (CNH) program) and has the objective to explore the impact of human activities and climate change over the social, ecological, and hydrological systems, in the Northeastern floodplains of the African country.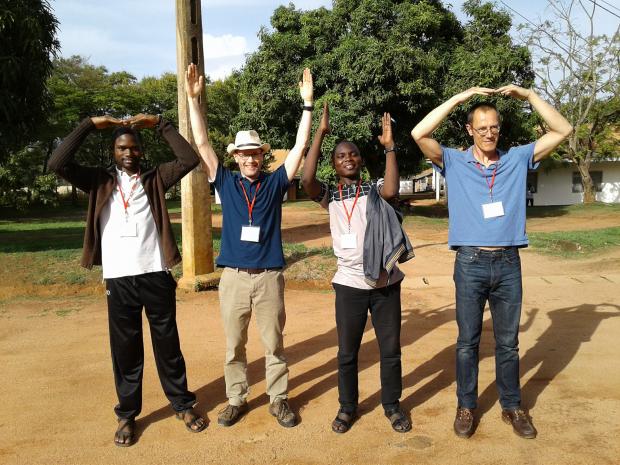 ---
Follow our blog
We invite you to read our new blog. There you can follow updates from our research, specifically our collaborative project on Hydrologic Transformation and Human Resilience to Climate Change in the Peruvian Andes. We have also included a Twitter account to update the activities of our Transdisciplinary Andean Research Network (TARN) this year in Peru.
---
Do you want to see our news archive? click
here
---